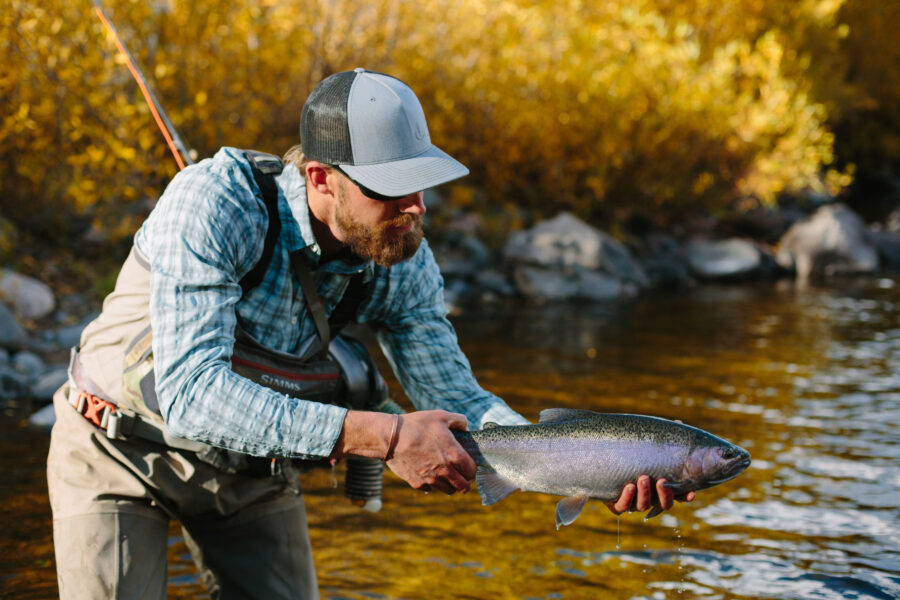 Best Trout Fishing in Colorado
Colorado offers several unique spaces for those who enjoy trout fishing. This Colorado fishing guide will help you discover why Little Snake River is one of the best trout streams in Colorado.
Why Little Snake River Is Unlike Any Other Fishing Spot in Wyoming or Colorado
Roaring Fork River, more specifically Little Snake River, runs through the Three Forks Ranch property and offers many benefits for new and seasoned fly fishers. The rich history of the river and the conservation efforts by the Wyoming Game and Fish Department offer a unique experience. Little Snake River is unlike any other river in the Wyoming or Colorado area.
The Rich History of Little Snake River
Little Snake River has a fascinating history that any fly fisher will enjoy learning about. Understanding the history of the river and its wildlife gives fly fishers an appreciation for their new favorite fishing spot. The river is located in a rugged and remote setting close to the Wyoming and Colorado border and the Sierra Madre Range.
During the late 1800s, there were over 300 mines producing copper in the area. While many were profitable, the only evidence found today that they existed is rusted rail cars, remnants of buildings or old machinery scattered throughout the area. Many of these artifacts can still be seen near Roaring Fork River and Little Snake River.
Whether a game hunter, hiker or scientist, the location offers unique opportunities for exploration and relaxation.
The history of wildlife — and particularly fish — near Little Snake River is an interesting one. The river is home to cutthroat trout, one of the rarest of the four native trout species in Wyoming. Because they are rare, conservation has become essential to encouraging fish reproduction and survival.
Fish Research and Recommendations
Department biologists from the Wyoming Game and Fish Department recommend flows from July through May. Fishing during this period helps maintain the reproduction and growth of adult and juvenile fish, which helps ensure their survival during the harsh winter.
Other area studies have revealed that careful fishing from May to June is beneficial. Flow during this time is needed to provide sufficient habitat for trout spawning and incubation in the area.
Conservation Efforts for Little Snake River
The conservation efforts at Little Snake River ensure the local fish can survive and thrive during peak fishing seasons. Many samples have been collected since the late 1950s, and biologists continue to study the native cutthroat trout and their size, reproduction cycle and population maintenance.
Due to the unique variance in cutthroat trout genetics found in the local fish population, it is essential to preserve the genetic purity of the fish. Local fishing regulations ensure that fly fishers can only catch three trout daily and only one cutthroat over 12 inches long. Fishers can also not fish in the Roaring Fork River above the Huston Park Wilderness boundary.
If you plan to visit Little Snake River, ensure you closely follow fishing regulations. Preserving the trout population is just as important, if not more important, as having a good time during your fly fishing outing. Do your research before traveling to ensure you follow the conservation rules.
The Best Trout Fishing in Colorado
Of all the trout streams in Colorado, Little Snake River tops them all. Those who love hooking and reeling in big fish will find the river at Three Forks Ranch offers several ways for both beginners and experienced anglers to find and catch trout. As one of America's finest trout streams, Little Snake River is a must-see destination for those who want to cross bucket lists or try fly fishing for the very first time.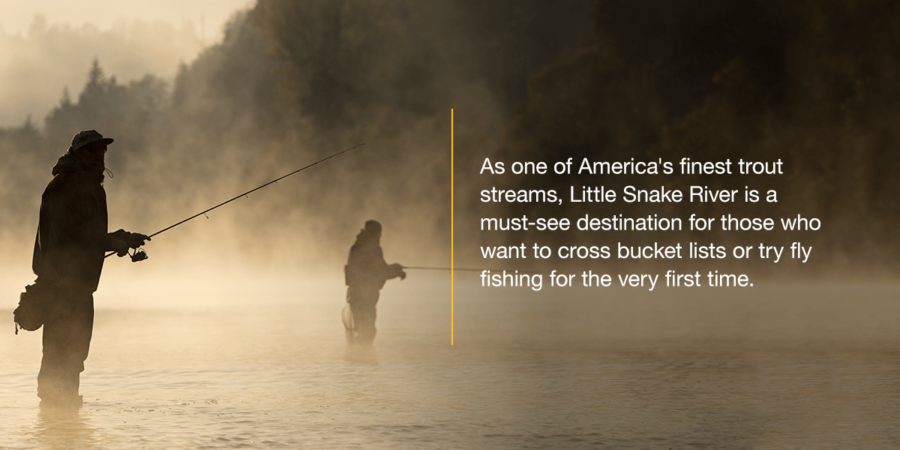 Our lodge in Colorado is an excellent spot for you. Our guides have the experience, skills and passion to guide you through outdoor and wellness activities. Learn about how we nurture and respect the local environment, taking care of the natural space year-round.
Part of our dedication to the local land means a focus on sustainability before and after your stay. We work to conserve and protect our fish, with experts monitoring the ecological state of the rivers year-round. If you are a beginner fly fisher, you can locate an expert to teach you the best techniques while you learn about what goes into fly fishing.
Trout You Can Catch in Colorado
Those who want to explore Colorado trout fishing will find many different kinds of trout in the Little Snake River, including rainbow, brown, cutthroat and tiger trout:
Rainbow trout: Rainbow trout is one of North America's most popular and widely recognized trout species. A highly sought fish, the rainbow trout is spotted with a reddish band down its sides. The male rainbow trout also has a distinct hooked jaw.
Brown trout: A Eurasian fish species, the brown trout is a valuable exotic fish in North America. Also called a German brown, the brown trout's tolerance for warm waters is higher than other trout.
Cutthroat trout: Native to the Pacific coast and ranging from California to Alaska, you'll often find cutthroat trout in deep pools or clean and cool water with significant cover. You can also plan on finding cutthroat trout during the warmer months.
Tiger trout: A tiger trout is a hybrid of a female brown trout and a male brook trout. You can distinguish tiger trout by their brown-gray body and orange underside with unique patterns. Their fins are also orange and the tail fin has a distinctive square, forked look.
Learn More About Trout Fishing at Three Forks Ranch
Right on the banks of the Little Snake River, Three Forks Ranch has some of the best areas to fly fish in Colorado. Our Colorado and Wyoming trout fishing experiences suit skill levels from beginner to professional, with expert guides to meet your needs. They'll walk you through the fly fishing process and help you have a great time during your trip.
Our ranch offers over 200,000 acres of Rocky Mountain landscapes to view and appreciate. Enjoy the view from our beautiful suites, experience fine dining and enjoy our many activities like hunting, hiking and horseback riding.
We're dedicated to providing solutions for all your questions and inquiries, letting us guarantee a satisfying stay. We want your experience to feel personalized, so we'll do our best to match your interests, skills and wellness goals with activities you enjoy. Contact us online to book your stay or to learn more about the trout fishing opportunities at Three Forks Ranch.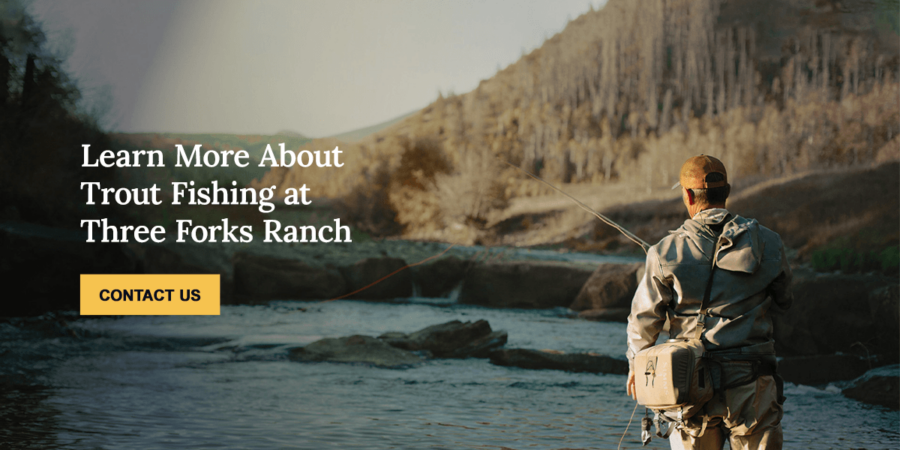 Newsletter Sign-Up
Stunning natural beauty, expansive grounds, world-class accommodations, unparalleled service, your every desire fulfilled, just by opening your inbox.