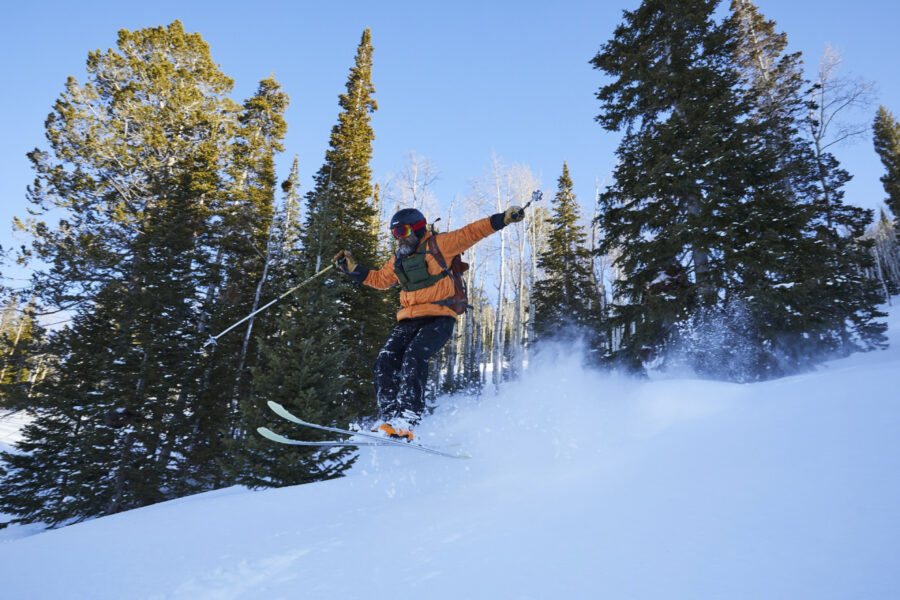 The top five reasons why you'll love to ski or board our private mountain this winter
Stuck in a rut? Boredom got you down? Ready to switch things up? Hitting the slopes is one sure way to bust out of the winter blues and there is no better place than our private ski mountain here at the Ranch. Whether skiing deep powder or gently riding groomers, skiing and snowboarding are great exercise (you can burn up to 450 calories per hour!). Research shows that skiing and snowboarding are not only great for you physically, but mentally, too. Both activities release endorphins, which are the little happy chemicals in your brain. Most people find improvements in their mood and a happier overall mindset, especially if they hit the slopes with friends and family.
Skiing and snowboarding can boost your mood and your fitness. But that's not all! Here are four more reasons to grab your skis or snowboard and head to Three Forks Ranch this winter: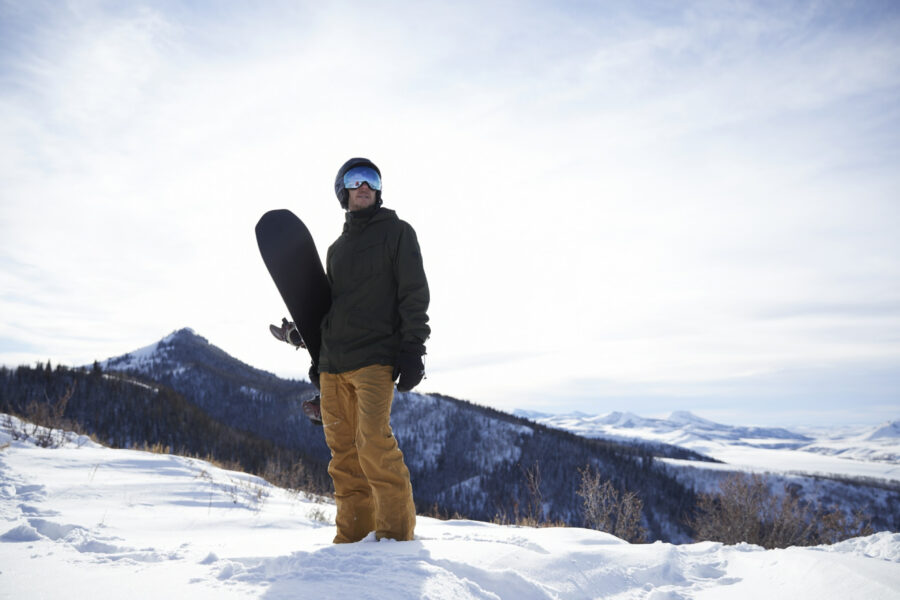 Skip the crowds and enjoy your own private ski mountain
We limit the "crowd" by providing you with your own private mountain in Colorado for private skiing or snowboarding. On Three Forks Mountain, there are no lines and no waiting. No crowds mean more runs and terrain for you to enjoy. You can literally ski as many laps as your legs can handle. You're free to snowboard as much as you want at your own pace and on your own time. Our guides will take you all over the private mountain, anywhere you want to go. It's an amazing experience to ski or ride like this where it's incredibly quiet with so much terrain to explore.
"I love skiing untracked snow. I love skiing powder. And the fact that you can spend all day on a mountain that's all your own is pretty tough to beat."

— Kelley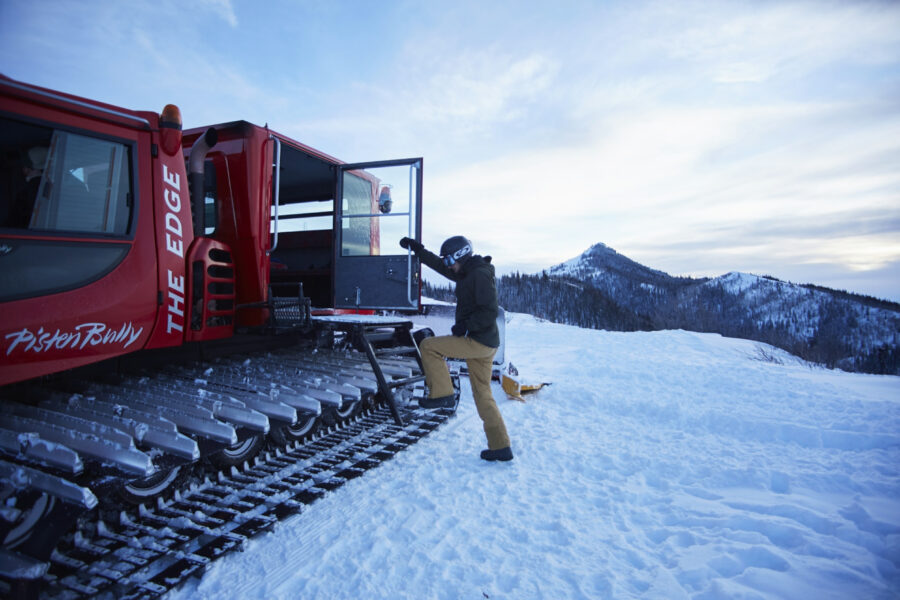 Our heated snowcats take you up the private ski mountain in pure comfort
Cat skiing at Three Forks Ranch is a wonderfully unique experience. Our snowcats take you to the top of the private ski mountain in warmth and comfort. You won't freeze on a chairlift, and there will be no need to worry about dropping your gloves, ski poles, or cell phone! Our heated snowcats will whisk you to the summit and unleash you to explore to your heart's content. Choose one – or all – of eight Olympian-approved runs. Or, carve your own track amongst miles of untouched powder. Then do it again. Once you come down, the snowcat is ready to bring you right back up again.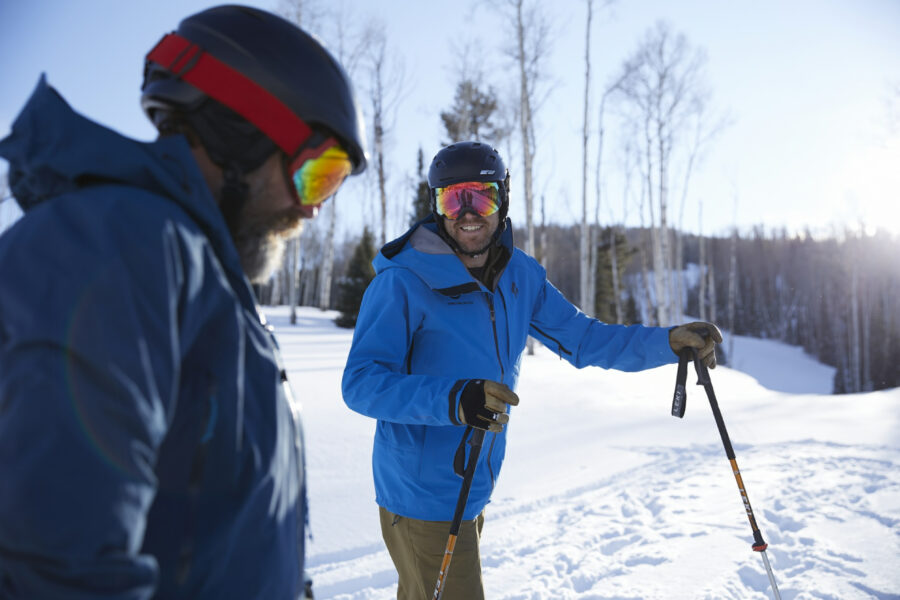 All levels of skiing or riding with your own personal guide
Our private ski mountain features 1,100 vertical feet with multiple runs for every level. The terrain includes natural cruisers, bumps, steeps, open meadows, and majestic tree lines. Whether you choose to ski in the beginner's bowl or race through the Aspens, it will feel like a world-class experience. We can accommodate all skiing levels from never-evers all the way up to powder hounds. Our guides are with you every step of the way to ensure that you have an epic day shredding the pow at your perfect pace. We will tailor your trip to your skill set and level of activity, from mellow cruise to adrenaline-pumping adventure.
"It's a special feeling to be out here on your own. It gives you the chance to forget about everything you left behind and the stress of where you came from."

— Scott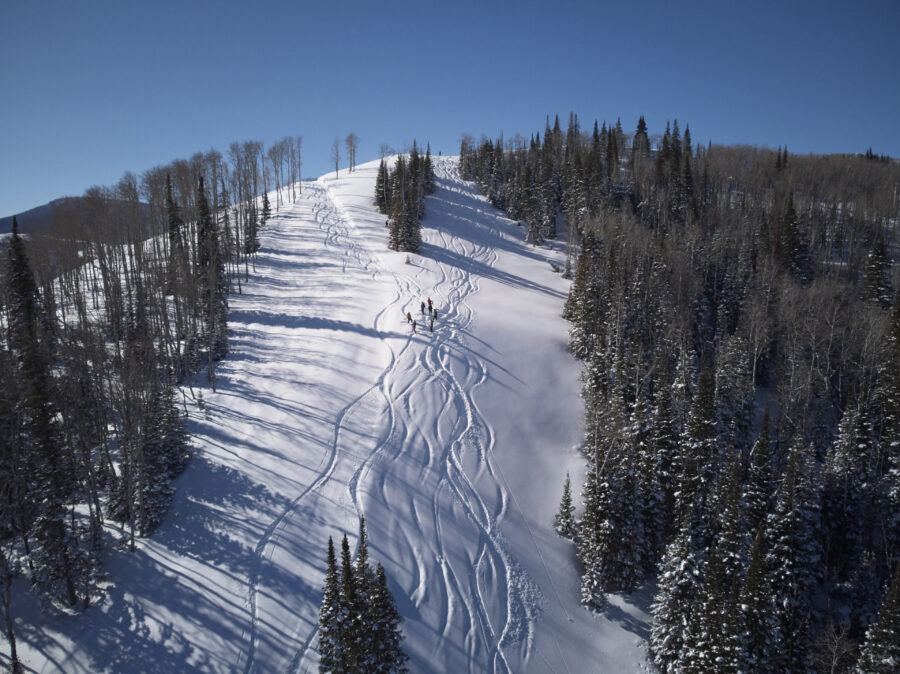 Connect with nature
Nothing artificial here. We rely on 100% real snowfall to guarantee fresh powder on every turn. There's a sense of solitude and serenity on the Ranch that you won't find at any large resort. Without all the noise of the lifts and the constant activity of people, you can really connect with the outdoors. As a result, you get an intimate experience of being at one with nature and being able to connect with your inner self. Plus, there are 200,000 acres on the Ranch to play on and explore. We'll customize your unique adventure and personalize it for you every step of the way.
Our winter outdoor activities engage you with thrill-seeking adventure and a sense of serenity while on the Ranch. Here are just a few of the activities we have in store for your upcoming visit:
Sound like the perfect remedy for you? Get outside and explore our private ski mountain with your closest friends and family this winter. As one of our guides likes to say, "You will become completely addicted to Three Forks Ranch and spoiled like no other place on earth. Nothing else will ever compare." So don't delay. Winter bookings are filling up fast. Call our reservations team for availability today!
Newsletter Sign-Up
Stunning natural beauty, expansive grounds, world-class accommodations, unparalleled service, your every desire fulfilled, just by opening your inbox.