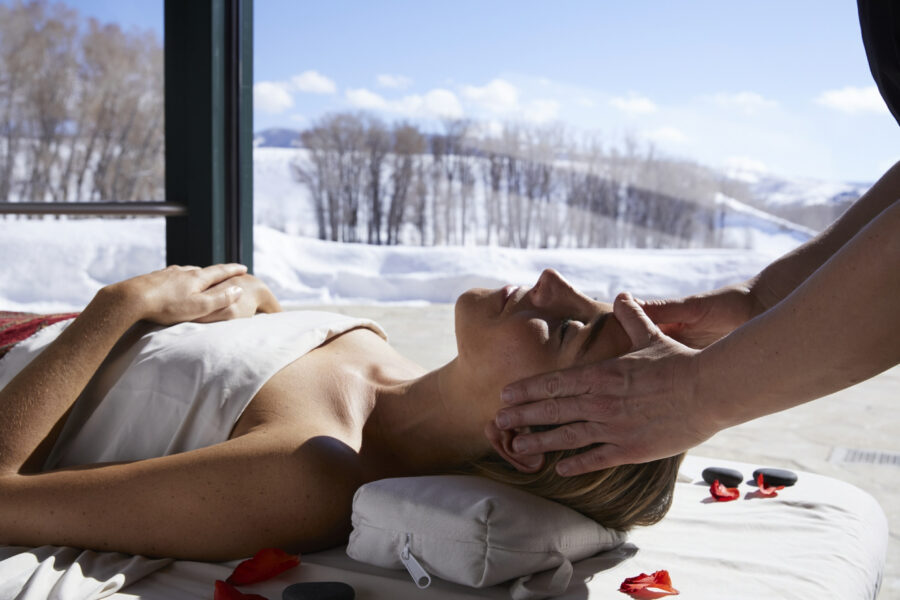 Reset your mind, body, and soul in just a few days with these nine proven benefits of staying at a luxury wellness resort
What if you didn't have to sacrifice your health and wellness for fun, adventure, and the great outdoors? At Three Forks Ranch we believe you can have it all. Rejuvenate your skin with a facial and have an amazing day carving turns on the Three Forks Private Ski Mountain. Take a restorative yoga class and indulge in a delicious steak dinner with a glass of house red wine. Meditate in a peaceful sanctuary and rip through powder on a snowmobile tour of the Ranch. We believe that a diversity of experiences and a balance of peace and pleasure make for the most fulfilling and restoring luxury wellness resort vacation.
The top nine benefits of a luxury wellness resort stay at Three Forks Ranch
1. Customize your own wellness stay for your individual tastes and preferences

Many wellness retreats are often focused on one activity like a week of yoga and vegetarian food, HIIT exercises complimented by a paleo diet, or a meditation retreat with journaling. Three Forks Ranch is different. We offer a unique blend of luxury resort offerings with customized wellness options that integrate into your vacation. Staying here is not restrictive, but it is addictive. There are no fad diets or just one way of exercising. We believe that every guest is unique and every wellness journey deserves personalized attention. We celebrate everything in moderation. Except for maybe fun and adventure.
2. Boost your brain health by learning something new

Ever tried ice fishing? Or archery? How about driving a 4×4 quad or ATV in the open forest? Or an aerial yoga class? There are so many new things to experience at the Ranch. And research suggests that learning something new can improve your happiness factor and the health of your brain. 'Mental sweat' helps your brain build new cells and strengthens neural connections. Learning new things requires focus and mindfulness, which are good for improving your outlook. At the Ranch, all of our activities include a personal guide to teach you the ropes of any activity to ensure that you feel safe and confident while learning your new favorite skill.
3. Improve habits with individualized attention from a wellness coach
Imagine having someone on your side to help you navigate all of the differing opinions on how to achieve optimal health. Someone who is well versed in the many lifestyle options and who is trained by the experts at Mayo Clinic's world-class health facility, to help create a wellness plan that is unique for you. A coach who acts as a collaborative partner to guide you in the right direction of your fitness, nutrition, or wellness needs. Someone who will listen, ask the right questions, and discover your unique motivation for getting in shape and moving forward in your wellness journey. That someone is your personal coach at Three Forks Ranch when you partner with our certified wellness coaches.
Learn more about wellness at the Ranch
4. Less screen time equals more green time to connect with nature
Ditch the phone or laptop and experience the true connection of being outside in our mountainous playground. There's a reason why connecting with nature feels good, because it's good for you. Recent studies from Stanford University found that walking at least 50 minutes in a city park boosted people's moods as well as their working memories and attention, while a 90-minute walk yielded changes to their brains in a way that can protect against depression. And that was just in a city park! Three Forks Ranch sits on 200,000 acres of rolling landscape in the Rocky Mountains. Just imagine the extra mood boost you'd get from spending time admiring our beautiful landscape and abundant wildlife.
Read the Time article on how nature can make you happier here.
5. Nourish your body with extravagant and restful treatments in our wellness spa
Make time for self-care with nourishing treatments for your whole body in our wellness spa. Body exfoliation and gentle massage are two of the best ways to soothe and relieve rough, dry skin. Body therapies, wraps, and scrubs reveal fresh, healthy, glowing skin that feels soft and looks beautiful. Holistic treatments such as cranial sacral therapy can relieve the stress and pain caused by compression. Our wellness spa treatments help stimulate the body's natural healing abilities and promote physical and emotional well-being.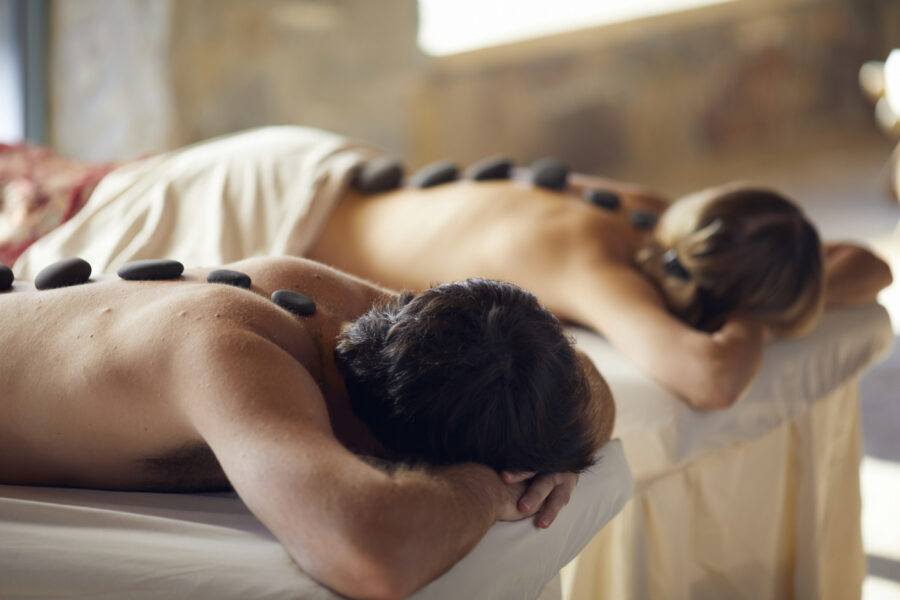 6. Build strength and flexibility with private classes from our elite instructors
From yoga and Pilates to TRX and bootcamp circuit training, we offer a variety of indoor fitness classes to suit your needs. Since class sizes are small, you can usually make requests based on the activities you would like. For instance, you might want to spice up your HIIT workout in the morning if you have a massage treatment in the afternoon. Or perhaps a slow flow yoga class would work better for you after a full day of skiing or horseback riding.
7. Indulge in the finer things in life with gourmet meals, craft cocktails, house wine, and house-prepared seasonal desserts
In between outdoor activities and indoor wellness treatments, fuel up on delicious gourmet meals prepared by our in-house executive chef. Wake up to bottomless coffee and a dream breakfast, whether that's granola and fruit or a full helping of eggs, sausage, and toast. Treat your body to a filling lunch midday to prepare you for afternoon activities. By evening, relax with a hard-earned craft cocktail or glass of house-wine. Indulge in a seasonal multi-course dinner, which includes savory dessert from our pastry chef. We aim to source our meat and produce locally when possible, for a farm-to-table feel that delivers on taste and nutrients.

See healthy dining at the Ranch
8. Restore your body with ample sleep in our luxury wellness resort accommodations
If you only did one thing to improve your health, do you know what the most effective thing would be? Sleep! That's right, getting an adequate amount of restful sleep plays an important role in nearly every biological process in your body. It's essential for the immune system, cardiovascular health, and the executive system. It helps alleviate stress, minimize weight gain, and improves your memory and balance. Sleep literally helps with everything! That's why Three Forks Ranch takes your sleep very seriously. Our five-star accommodations feature the most comfortable mattresses, finest linens, and comfortable lighting to promote many nights of deep rest and luxurious sleep.
View accommodations here.
9. Improve your relationships with loved ones to lift your spirits
Spending time with loved ones at the Ranch is one of the biggest reasons to embark on a luxury wellness resort. Couples and families leave the Ranch with a renewed sense of love, loyalty, and appreciation. According to Harvard Health, social connections and strong relationships not only give us pleasure, they also influence our long-term health in ways every bit as powerful as adequate sleep, a good diet, and consistent exercise. Dozens of studies have shown that people who have social support from family, friends, and their community are happier, have fewer health problems, and live longer. Not only do you connect with your own family while vacationing at the Ranch, but you get to become part of our family. We treat all of our guests with personal attention and care. We love helping you create special memories for you and your family that last a lifetime.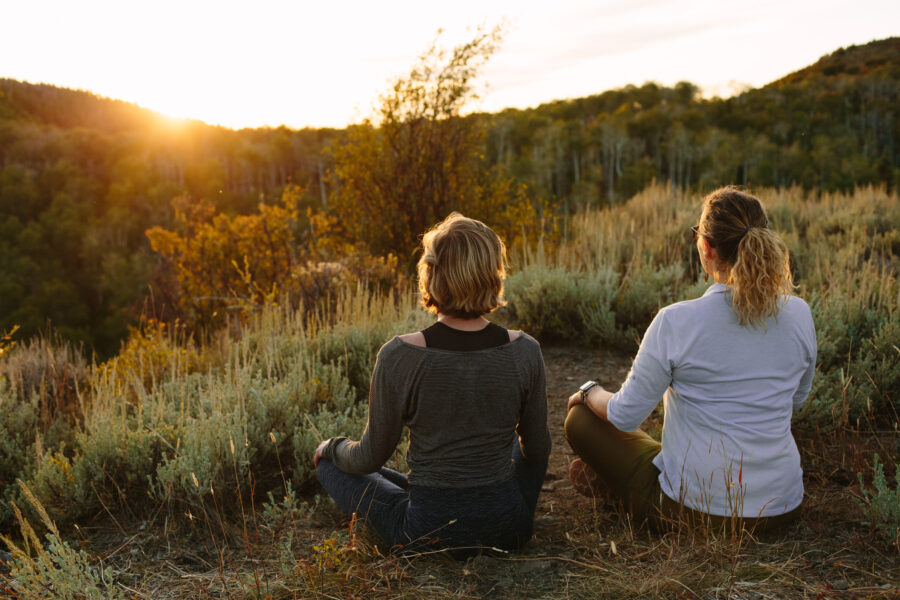 Newsletter Sign-Up
Stunning natural beauty, expansive grounds, world-class accommodations, unparalleled service, your every desire fulfilled, just by opening your inbox.