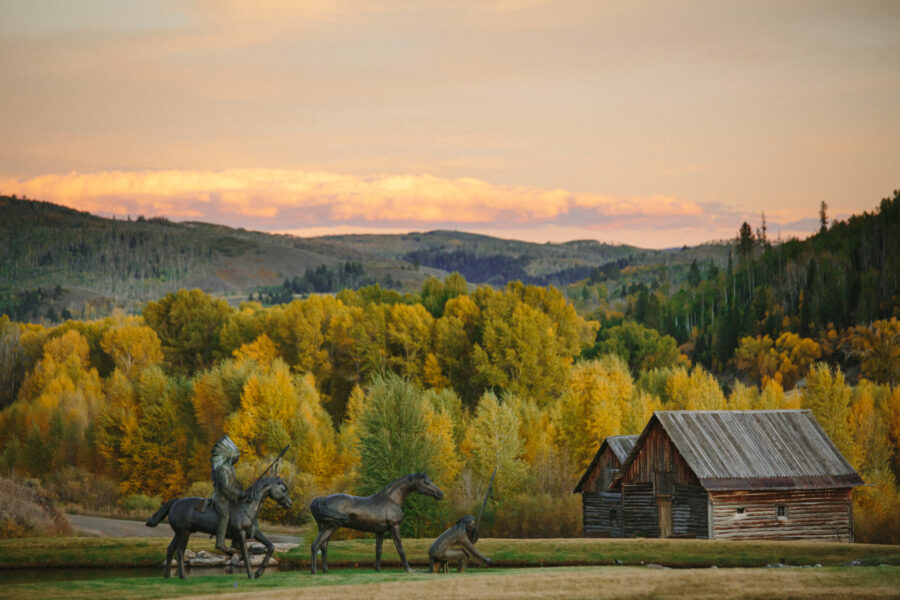 Hiking in the Fall: A beautiful walk for your mind, body, and soul
It's the most wonderful time of the year — and no, we're not talking about the holiday season just yet. We mean Fall! And, with the change of seasons comes changing leaves in northern Colorado and Wyoming. It's not unusual to see explosions of orange, red and yellow popping up all throughout the region. The various hues of gold and oranges of the Aspen leaves are especially sure to dazzle.
What better way to see Fall's color display than on two feet? Hiking in the Fall is a rejuvenating way to get outside and explore the ranch at your own pace.  Our guides will pick a trail that suits your fitness and adventure level. Lace-up your hiking boots, dress in layers, and be sure to bring your phone to snap some photos to share with your friends and family back home. 
An added bonus of hiking on the Ranch is that there's no need to worry about sharing the trails with lots of other hikers, finding parking, or timing your hike to beat the traffic. You get exclusive and private access to the Ranch's 200,000 acres and its surrounding trails to explore all to yourself. If you're up for a challenge, you can even hike to the top of Three Forks Mountain to take in the extraordinary view of the ranch and the surrounding areas. 
Hiking is more than just fun. It's good for you, too!
Countless studies and research have consistently shown that regular exercise not only improves our overall health and fitness but lengthens and improves the quality of our lives. Walking is one of the lowest impact sports around. This means that while you derive all the cardiovascular benefits of other aerobic activities, you do so with a minimum of stress, strain and pounding to your body. 
Three Forks Ranch is always looking for ways to foster your SUSTAINABLE WELLNESS journey. Learn five ways that hiking can support you on your path to wellness. 
Hiking is Good for Your Heart
Hiking is a great way to improve your cardiovascular fitness, especially if the trail includes hills which allows your heart to gently work a little harder. Hiking lowers your risk of heart disease and improves blood pressure, which significantly reduces chances for heart problems, according to the CDC. In contrast, those who do not exercise are twice as likely to have coronary heart disease.
Sculpts Your Core
Walking on slightly uneven terrain with rocks, sticks, and shrubs provides a natural way to engage the core muscles in your torso and to improve your balance. This provides a unique lateral motion that you don't get from walking on the sidewalk or a treadmill. If needed, you can always use trekking poles for extra stability and support for your joints.
Boosts Your Mood
Being outside in nature has been shown to lower stress levels and decrease the feeling of anxiety due to the release of adrenaline that builds up in the body. Endorphins released by your body during a walking workout can lift your spirits and quiet the mind. These good feelings tend to last throughout your stay and remain with you upon your return home.
Helps with Weight Control
Like all forms of exercise, hiking is one of the best ways to lose weight and is a method of stabilizing cholesterol levels. It may be surprising that a person who walks three miles burns the same amount of calories as a person who runs three miles, it usually just takes a little longer. That means hiking is just as effective as running, and perhaps way more enjoyable, for weight management.
Builds Strength
Walking is a weight-bearing exercise, which can help reverse the negative effects of osteoporosis. It increases bone density and slows the rate of calcium loss, which strengthens bones and decreases the chances of a break or fracture. Not only that, hiking also builds strength in your glutes, quadriceps, hamstrings, and the muscles in your hips and lower legs.
Well, that explains it! Fall hiking at Three Forks Ranch feels so good because it is so good for you. Remember that fall comes quickly in the mountains, September and October are often great times to see the leaves change. This dazzling color show typically lasts just a few weeks, so be sure to reserve your spot now to secure your leaf-peeping, heart-healthy, soul-filling hiking adventure.
Newsletter Sign-Up
Stunning natural beauty, expansive grounds, world-class accommodations, unparalleled service, your every desire fulfilled, just by opening your inbox.