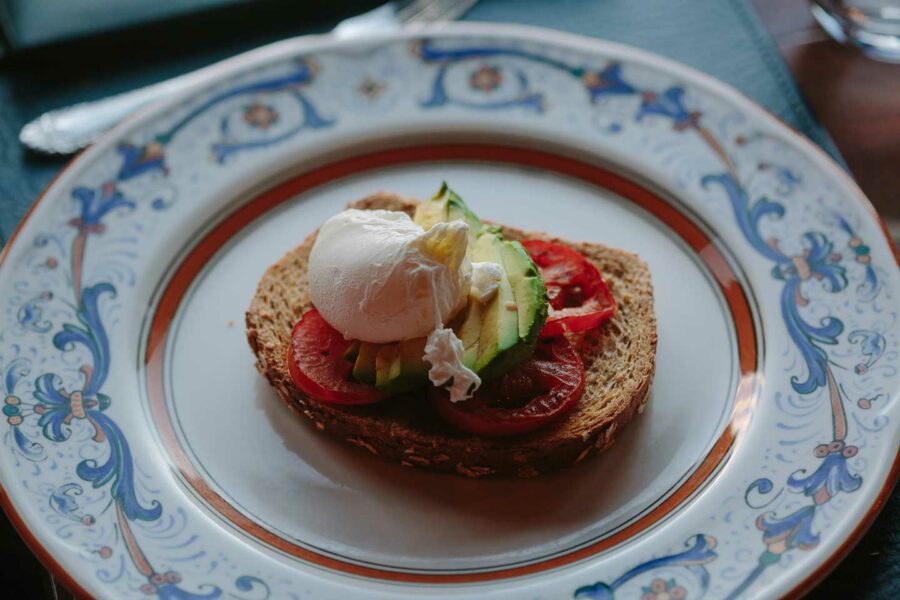 Fall Recipes from our chefs at the Ranch
It's that time of year for golden leaves, long sleeves, and Fall recipes! We have asked our chefs and nutrition experts at Three Forks Ranch what their favorite Fall recipe is to share at this time of year. Whether you're craving a hearty soup or a delectable dessert, we've got you covered.
Butternut squash soup with smoked maple syrup with crispy onions, and sour cream
From Kris Gerlach, Executive Chef
Ingredients:
2 lbs butternut squash peeled, deseeded, and diced large
1 large onion
4 Tablespoons chopped garlic
1tsp chili flakes
2-star anise
1 cinnamon stick
8 cups apple juice
1 qt Heavy cream ( veggie stock or another stock)
Cooking Steps:
1. Sauté squash, onions, garlic, and chili flakes till caramelized and aromatic,
2. Add apple juice and heavy cream and cook till veggies are mushy
3. Puree all ingredients till smooth, add star anise and cinnamon stick.
4. Reduce till desired thickness.
5. Pull out star anise and cinnamon stick, season with salt and pepper
6. Pour into bowl and top with a dollop of sour cream, a small swirl of the smoked maple syrup, and place a small pile of fried onions on top
Pumpkin Spice Cake
From Lynn Hovey, pastry chef
Pumpkin spice mix:
Equal parts
Nutmeg
Clove
Allspice
Ginger
Cake recipe:
250g AP flour
2tsp baking powder (1 tsp for high altitude)
1tsp baking soda (½ tsp for high altitude)
1tsp salt
2.5tsp Cinnamon
2tsp pumpkin spice
240g vegetable oil
4 eggs
200g brown sugar
100g sugar
15oz canned pumpkin
1tbsp Vanilla
Directions:
Sift together flour, baking powder, baking soda, spices and salt. Add to a big mixing bowl with whisk attachment. Whisk together pumpkin, sugars, oil, eggs and vanilla in a separate bowl. Pour wet into dry and mix gradually, fully incorporating between each addition. Keep scraping down. Pour into a frame or lined pan and bake @ 320f until golden and fully cooked. Approx 20 mins.
Served with Pumpkin Custard
Ingredients:
2 cups cream
130g yolks
4oz sugar
2g cinnamon
1g nutmeg
1pinch clove, ground
6oz canned pumpkin
Vanilla
Directions:
Boil cream.
Mix sugar and spices.
Whisk together sugar, and yolks. Whisk in pumpkin.
Temper yolks with cream and cook to 83c or until thickened and coating back of
spatula. Strain through sieve and chill, make sure to cover with plastic wrap in
contact with custard to avoid a skin forming and use a wider shallow container to
cool it quickly so it doesn't continue cooking!
Vegan Corn Chowder
By Alexandra Mathisen, Wellness Coach & Nutrition Expert
from The Plant Based Cookbook by Deliciously Ella
Ingredients:
500g tinned (drained weight) or fresh sweetcorn (about 3 or 4 medium size corn on the cobs)
olive oil
1 onion, chopped
1 garlic clove, chopped
Pinch of chili flakes
1 tablespoon vegetable bouillon powder of 1 vegetable stock cube
Juice of 1 lemon
1 x 400g of tinned coconut milk
salt and pepper
To serve:
Plain yoghurt, handful of cilantro (coriander) leaves or fig compote (as seen in the photo – I used pre-bought fig jam!)
Creating the Magic!
If using fresh corn on the cob, steam your corn on the cob until it's cooked. Let it cool. Then carefully turn it on its end and slice off the corn.
Preheat the oven to 220C (fan 200C). Then place the corn kernels (either fresh or tinned) with a drizzle of olive oil and a little salt and pepper on a baking tray. Bake in the oven for 15-20 minutes, until golden.
Meanwhile, put the onions and garlic into a large saucepan, with a drizzle of olive oil, some salt and pepper and cook gently for 10-15 minutes, or until soft. Add the golden corn to the pan and cook for a further 20 minutes, stirring occasionally to ensure it doesn't stick to the bottom of the pan.
After 20 minutes add the chili flakes, bouillon powder (or stock cube), lemon juice and coconut milk. Bring to the boil, before reducing the heat and leaving to simmer for 10-15 minutes. Once the kernels feel soft, remove from the heat and blitz using a hand blender.
Spoon the chowder into bowls and serve with a dollop of yoghurt and some cilantro (coriander) sprinkled on top.
Note: Or for a slightly different flavor, serve with a little fig compote. Yum!
Late Fall is a great time to try a cooking class!
Our ​resort's ​culinary experts invite you to their side of the counter as they teach new skills and recipes, which will give you insight on healthy eating for resiliency. Learn how to prepare meals that will feed your mind and body with the nutrients needed to manage the stress of your ever-changing life in these intimate cooking classes.
THE KITCHEN ACADEMY​ is Three Forks' state of the art, 12-station teaching facility. It utilizes the latest technology, including SubZero and WOLF appliances, as well as audio and visual step-by-step instruction from our culinary team, to help you enjoy and learn about healthy food preparation.
Newsletter Sign-Up
Stunning natural beauty, expansive grounds, world-class accommodations, unparalleled service, your every desire fulfilled, just by opening your inbox.