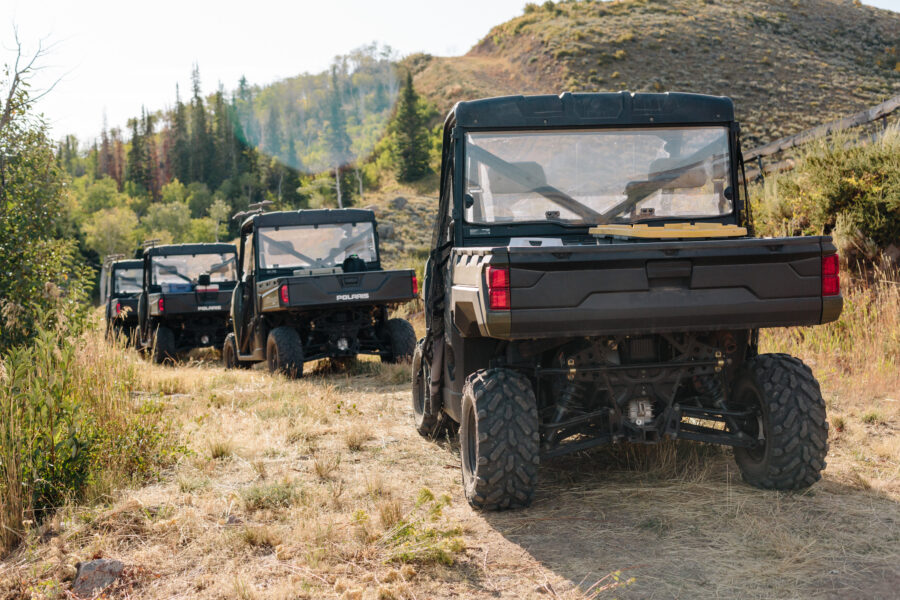 Explore the Ranch on Four Wheels
Imagine, it's rush hour in the city and the interstate is like a parking lot with hundreds of cars sitting idle in the hot sun, waiting to inch forward. No movement, no breeze, just stillness and stifling heat.
Now, imagine you've just finished a morning of flyfishing and a gorgeous lunch of steak and salad while sitting at an outdoor picnic table by the Middle Fork River on THREE FORKS RANCH. You meet your guide to suit up with your helmet with a built-in com system and climb into one of our four brand new Polaris RZR XP 1000s. The RZR (pronounced razor) is a side-by-side, all-wheel-drive, 75-horsepower twin-cylinder engine, with Fox suspension, off-road rippin', machine.
After a brief instruction, you are in the driver's seat racing through miles and miles of pristine forest and two-track road. This all-terrain vehicle can handle any bump, rock, or turn in the road, and boy, do they rip! There is no feeling of stuckness here. You feel the rush of flying through this beautiful scene that is like something out of a painting. No traffic. No cars. Not even a stop sign between you and all of this open space.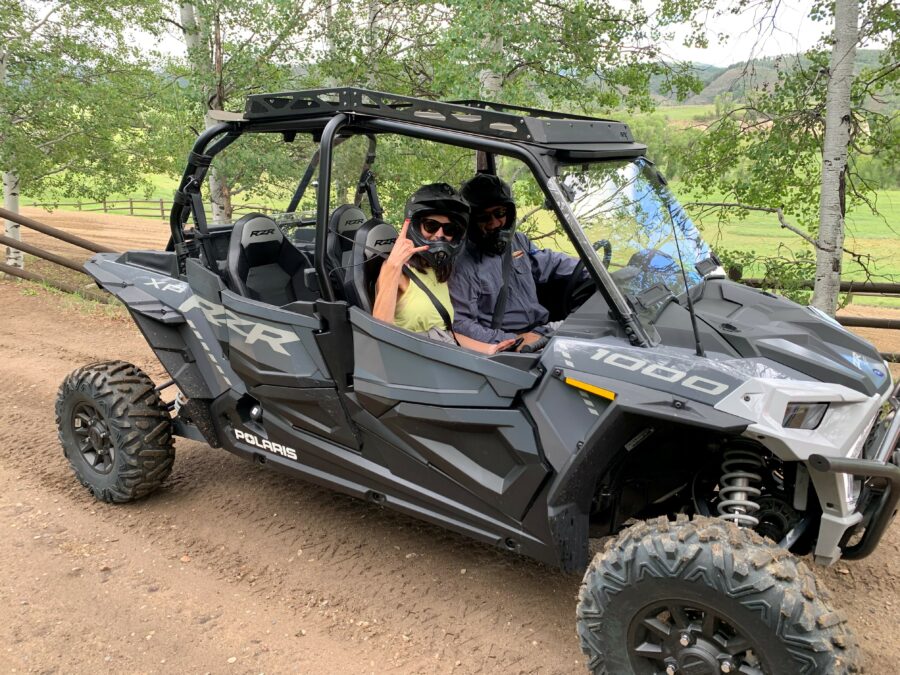 The RZR is engineered for power and easy handling no matter where, or how, you're riding. Its ideal blend of power, suspension and agility provides the ultimate experience in confidence and control. And not only do you have a personal guide by your side, but the vehicles also come with Ride Command, which can navigate new trails with GPS mapping or even check your vehicle's diagnostics during the ride.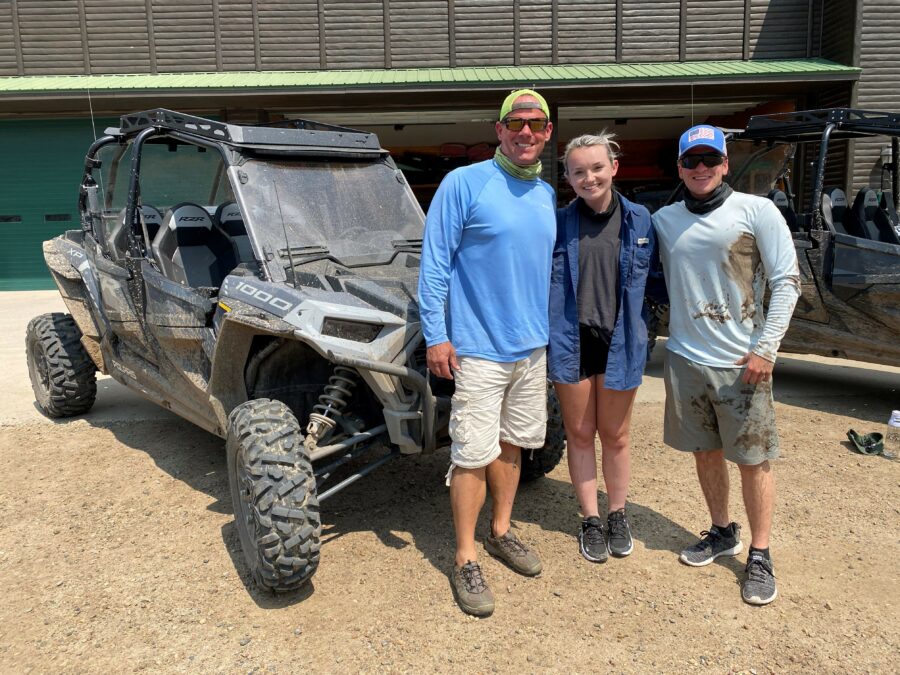 If you prefer to be in the passenger seat on a guided tour, that's awesome, too. Our experienced guides are happy to take guests out on a one or two-hour tour through the spectacular public lands that surround the ranch. You'll enjoy the chance to see the abundant wildlife such as deer, antelope, and elk. You might even catch a glimpse of a local sheepherder and their horse. Or, you could be inspired by the expansive vistas of the surrounding mountains around every turn.
Another day of rush hour traffic or a once-in-a-lifetime chance of racing through the wilderness during the vacation of your dreams. Now, which scene would you choose?
Wildlife Tour Rewards the Early Birds
If you prefer a gentler tour of the property, but sill on four wheels, we have you covered. Our Polaris Rangers are more of a Sunday-drive paced vehicle for those who enjoy a more leisurely tour. I mean, you probably want to actually see the wildlife on your wildlife tour, don't you?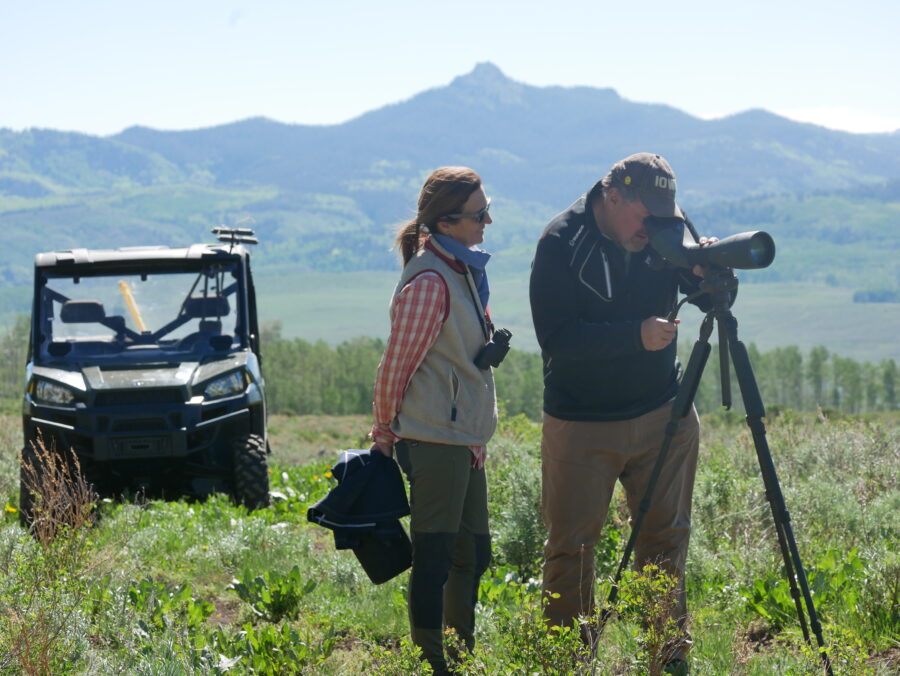 Our early morning wildlife tours are not to be missed. Guests board their Ranger at 6 am with their guide to see what wildlife they might spot in the early morning hours. Maybe it's a deer nibbling grass, or a fox hopping through the meadow, or even a moose stopping for a drink of water.
If you're a bird watcher, this is a birding paradise! We have plenty of blue herons, sandhill crane, egrets, and osprey. Bald eagle, red tailed hawk, barred owls, and falcons are commonly spotted here, too. There are the red winged black birds, stellar blue jays, and of course, the quintessential Colorado magpie.
During the wildlife tour we provide guests with binoculars, an extra jacket if needed, snacks, water and coffee. The land holds a magical quality at this hour, often with fog or morning dew dappling the light to make for stunning photos unavailable at any other hour. The landscape rewards the early birds with close-up glimpses of wildlife, magical light for photo taking, and a peaceful quiet to settle the mind and body.
Newsletter Sign-Up
Stunning natural beauty, expansive grounds, world-class accommodations, unparalleled service, your every desire fulfilled, just by opening your inbox.