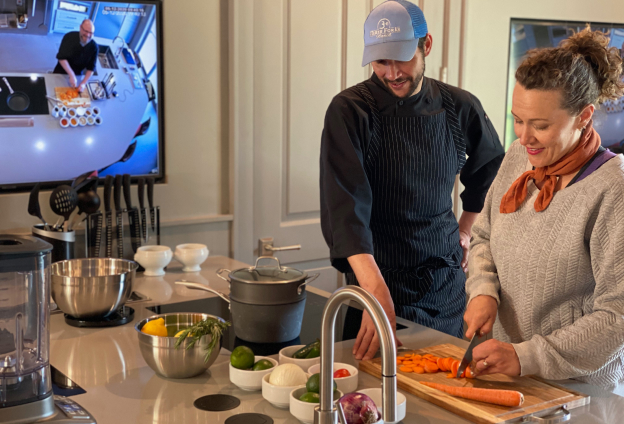 Three Forks Ranch's Kitchen Academy
Cooking Classes are a real treat here at Three Forks
Most people know that THREE FORKS RANCH sits on top of 200,000 acres of outdoor playground along with some of the best fly fishing in the country. But did you know that THREE FORKS also has a state of the art kitchen and teaching facility?
Our KITCHEN ACADEMY is a 12-station cooking classroom packed with the latest cooking tools and technology. Each station has its own oven, sink, and cooking utensils as well as a television to watch the instructor as you learn about healthy food preparation.
You might think, why would I want to cook while I'm on vacation? Well, just because it's called the Academy, it's far from stuffy and boring. Taking a cooking class with our world-class chefs and health professionals is a blast. Our instructors are both informative and entertaining, weaving in helpful nutrition tips as well as lighthearted conversation.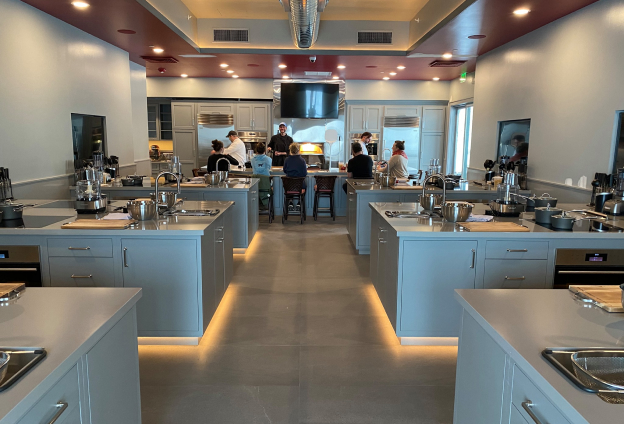 Because the cooking classes are so interactive, you are moving and food prepping pretty much the whole time. It is a great way to unplug from your everyday thinking and use the brain in a new way. The three-hour cooking class whizzes by in no time as you get to taste the delicious culinary creations you have created as your final reward.
The cooking classes are also a great interactive activity for a family or team of coworkers. The social way in which the stations are laid out creates a feeling of teamwork, camaraderie, and conversation. Cooking with other people fosters open communication as you have to work together to follow the recipe and support each other in reaching a common goal. A sense of playfulness often arises as people work side by side working in harmony.
There is a wide variety of course options at the KITCHEN ACADEMY, from creating a charcuterie plate to baking pastries to learning to mix Mediterranean flavors and cooking from scratch. As part of our mission to support you on your path to SUSTAINABLE WELLNESS, the lessons learned from the cooking classes are designed to be taken home and easily repeated for future meals or dinner parties after you return home.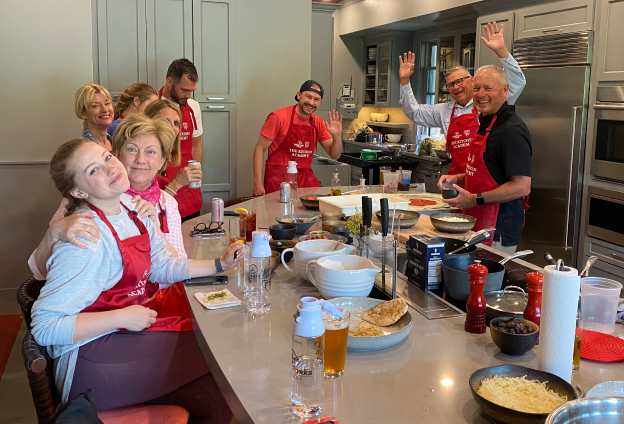 In the evenings, the KITCHEN ACADEMY transforms into casual dining with a pizza and tasting menu for up to twelve people hosted by one of our chefs for a fun-filled casual dinner while you watch the chefs perform their magic. Plus, one night a week our Executive Chef prepares his unique tasting menu — an exclusive experience of his favorite dishes and small plates.
At the Ranch, SUSTAINABLE WELLNESS means that what you experience here stays with you long after your trip. The cooking classes at the KITCHEN ACADEMY are no exception. We invite you to expand your palate and dive into developing healthy, sustainable eating habits which can be easily integrated into any lifestyle. The good feeling that you experience in the KITCHEN ACADEMY might inspire more connection and culinary creativity in your own kitchen at home.
Newsletter Sign-Up
Stunning natural beauty, expansive grounds, world-class accommodations, unparalleled service, your every desire fulfilled, just by opening your inbox.