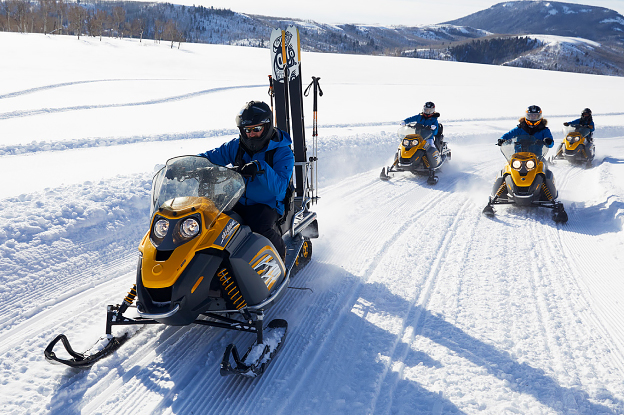 Best All-Inclusive Snowboarding in Colorado
Are you looking for all-inclusive snowboarding resorts in Colorado? Perhaps you want to feel the rush of the wind on your face as you ski and snowboard down a private mountain. Or maybe you plan to enjoy the extra amenities like the spa, soaking away the day. However you plan to enjoy your trip, Three Forks Ranch offers some of Colorado's best snowboarding and skiing opportunities. From professional instructors to an inclusive vacation package, you're sure to love your stay. 
Best Part of Colorado for Skiing
Three Forks Ranch is located near some of the best skiing and snowboarding areas in Colorado. Many visitors enjoy making the trek to Steamboat Springs, a popular public skiing spot close to the ranch. If you want a more private experience, the private skiing and snowboarding mountain at Three Forks Ranch might be the place for you.
Check out the best public and private areas for skiing and snowboarding in Colorado, and choose a ski vacation package for your next winter getaway.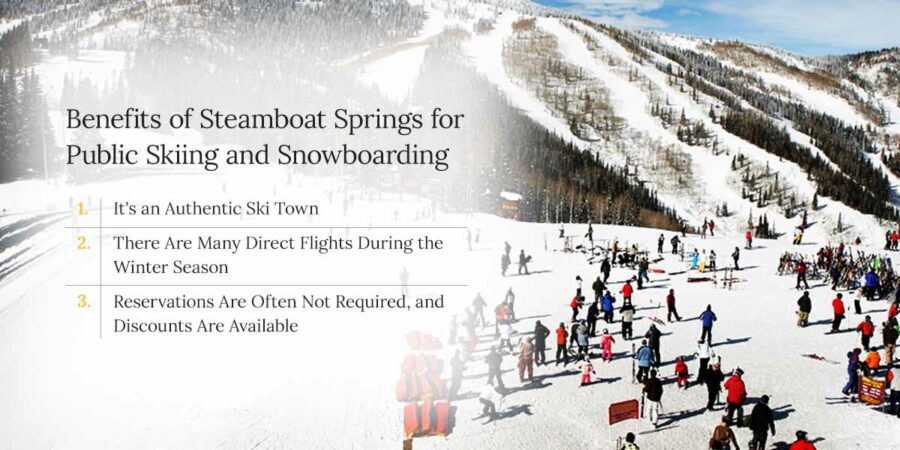 Benefits of Steamboat Springs for Public Skiing and Snowboarding
Skiing in Steamboat is an amazing getaway. From exploring the town to enjoying the refreshing feeling of winter air on your face, Steamboat ski vacations are enjoyable for the whole family. Here are three reasons Steamboat Springs is one of the best places to ski and snowboard:
1. It's an Authentic Ski Town
Located in Northwest Colorado, Steamboat is one of the state's most authentic ski towns. It's also located about 90 miles from the Wyoming border, making it a popular and convenient spot for vacationers in both states. The town of Steamboat Springs has authentic American ranching roots dating back to the 1800s and a ski resort history starting around 1960. Aside from skiing, you can explore the town's unique architecture and remarkable history and greet welcoming residents eager to show you the town.
2. There Are Many Direct Flights During the Winter Season
There are always convenient flights available for those who want to travel to and from the town of Steamboat Springs. During the winter season, fly into the Yampa Valley Regional Airport from major U.S. cities like Atlanta, Boston, Chicago, Houston and Los Angeles. During the rest of the year, you can always catch a flight into Steamboat Springs from the Denver International Airport!
3. Reservations Are Often Not Required, and Discounts Are Available
If you're heading to Steamboat Springs for a day trip, you do not need to book your reservation in advance. Booking your lift tickets at least seven days ahead of time may mean a discounted rate, but same-day or next-day tickets are also available. Steamboat also offers discounts or Ikon Pass holders, and children under 12 ski for free.
While you do not need a reservation to ski in Steamboat Springs, you may want to book your skiing or snowboarding excursion farther in advance if you'll be traveling with a large group. You want to be sure there's enough room on the mountain for everyone!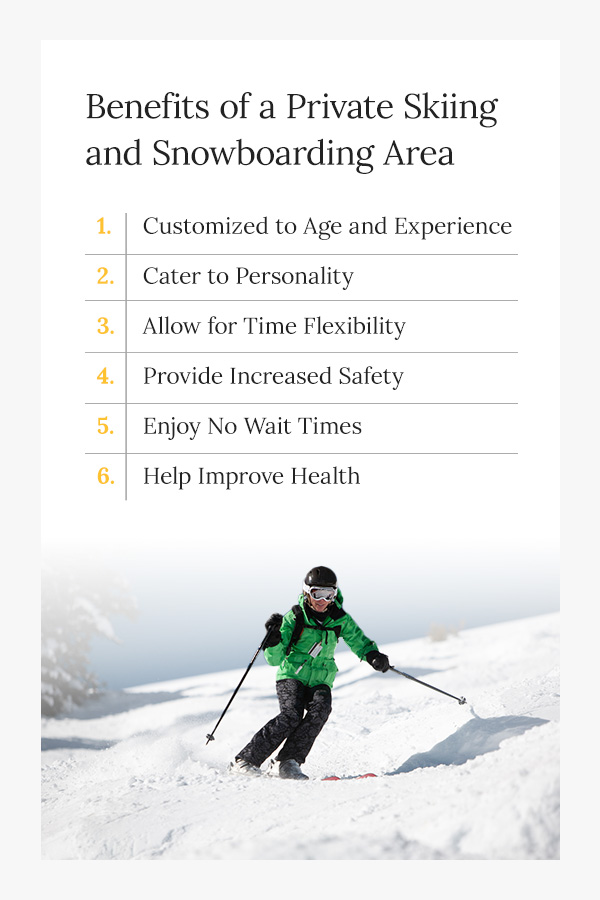 Benefits of a Private Skiing and Snowboarding Area
Three Forks Ranch offers some of the best skiing activities around. Those who enjoy private skiing or snowboarding and want the ultimate ski vacation might be interested in the benefits of private skiing and snowboarding areas over public areas. Here are six reasons to choose a personal skiing or snowboarding vacation over a public activity.
1. Customized to Age and Experience
For adult beginners or professionals, private lessons are often more helpful than public ones. Adult beginners often have a more challenging time learning to ski or snowboard than children due to the nature of their brain development. If you're an adult who wants to ski or snowboard for the first time, a private lesson may be right for you.
During private lessons, you'll have the instructor's full attention and make more progress quickly. When you attend a public lesson, it may be harder to learn or ask questions from the instructor. Your current experience level may also determine what kind of lesson suits you best. If you know the basics or are an advanced skier or snowboarder and want to improve specific techniques, a private lesson will be much more helpful.
2. Cater to Personality
If you are more shy, introverted or get anxious in new groups of people, a private lesson may be better for you. You can focus directly on the instructor's lesson, and they can focus all of their attention on you. A private ski or snowboard lesson allows those with unique traits to receive the best lessons possible.
Perhaps you are someone who learns new skills quickly and can easily pickup new things. In that case, a private instructor can teach you new lessons without waiting for other skiers. You can master one skill and move on to the next with no wait time.
3. Allow for Time Flexibility
When you ski or snowboard on a private mountain with a guide, you can explore on your own terms rather than adhering to a class schedule. You can enjoy an almost completely empty mountain when it works for you. Enjoy the empty mountain as the sun comes up, while it goes down or in the warmth of the afternoon sun.
4. Provide Increased Safety
Providing a safe place to ski and snowboard is one of the best benefits a private ski club or resort can offer. Safety is often the most significant appeal of a private skiing and snowboarding area, as families with children, couples or singles may want to be assured that the space is safe and secure for skiing and snowboarding. Private ski resorts and areas often have a lower population, which means fewer distractions. Skiing and snowboarding are safer when there are fewer people on the hills to collide with.
5. Enjoy No Wait Times
At Three Forks, there are no lines and no waiting when you reserve a spot on our private mountain. You can travel up and down the slopes as many times as you want without waiting for people ahead of you in line. Plus, you can save your energy for the descent by traveling up the slopes in our heated snowcats. Freezing on the chairlift is a thing of the past!
6. Help Improve Health
A private ski area can also help you improve your health and wellness. Skiing and snowboarding are intense workouts that use most of the muscles in the body, resulting in positive health effects. Skiing and snowboarding can balance the brain and mind while improving your perception, heart health, muscle strength and overall mood. 
Skiing over the slopes means you have to be aware and relaxed at the same time. Snowboarding requires a sense of direction and perception while rushing past the treelines quickly but surely. However you experience the health benefits of skiing and snowboarding, it is sure to give you a workout that leaves you sleeping well and refreshed for the next day of exploring.
Some other benefits of skiing and snowboarding include the following:
Improved muscle sensations: You'll have a heightened awareness of your muscles when you engage in outdoor activities like snowboarding and skiing.
Strong bones and joints: With every trip up and down the slopes, your bones and joints become practiced and stronger.
Boosted myocardial functions: The purpose of myocardial functions is to boost blood pumping to the heart and the rest of the body.
Increased cardiovascular endurance: The more you experience skiing and snowboarding, the more your heart becomes trained to endure long periods spent on the slopes.
Strong lower body muscles: Your lower body muscles are most often used during skiing and snowboarding, as your legs and core work to move you around the hills and bumps.
Improved core strength and balance: Your core strength and overall balance will improve as you practice staying up on your skis and building your stomach and diaphragm strength.
Deeper sleep: Because skiing and snowboarding require a lot of energy, you are sure to enjoy a deeper amount of sleep each night.
Improved flexibility: Skiing and snowboarding require you to move your arms and legs around in various flexible ways you may not often use your body.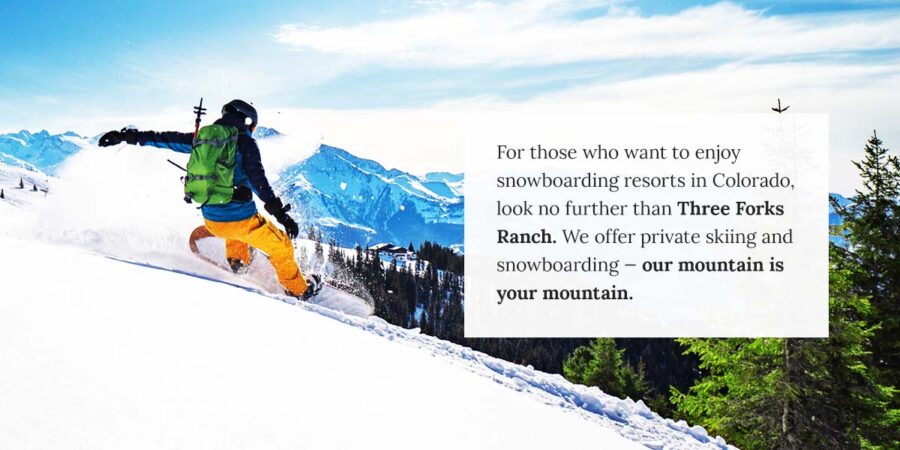 Experience It All With Luxury All-Inclusive Resorts
Many Colorado snowboarding resorts offer private areas where you can find limited crowds and fewer lines. For those who want to enjoy snowboarding resorts in Colorado, look no further than Three Forks Ranch. We offer private skiing and snowboarding — our mountain is your mountain.
The Three Forks Mountain offers a 1,100 vertical foot decline with approximately 20 runs for each level. You can cruise over natural bumps, steeps, meadows and through tree lines that former Olympians have tested and enjoyed during the design process.
Guests also have the opportunity to snowboard during their stay and receive lessons that fit their personal schedule and preferred time limits.
One of the features that our guests at the Three Forks Ranch most enjoy is our snowcats. These snowcats are equipped with comfortable heaters to help you get up to the mountain's summit quickly and warmly. Even better, our private summit has no lines, no lifts and no hassles, with an all-inclusive skiing and snowboarding experience.
Three Forks Ranch offers other amenities besides access to the mountain. These amenities include the following:
Lodging: Find luxury and comfortable lodging at Three Forks Ranch. Sleep well and enjoy warm meals after a cold day on the ski slopes.
Chef-prepared meals: Our chef can prepare fresh-cooked meals for you and your family during every mealtime. Ask for specialty foods designed just for you.
Premium and house spirits: Enjoy our premium and house-brewed spirits after an evening of skiing and snowboarding.
Outdoor activities: Our ranch offers various other outdoor activities aside from skiing or snowboarding that you can attend.
Expert guides: Seek out our professional guides who are experts in their field, whether it's an outdoor activity or skiing.
Indoor wellness activities: We offer various indoor wellness activities to strengthen your body and mind while off of the skiing hills.
Fitness classes: Consider taking one of our many fitness classes to improve your flexibility, core strength or muscle strength.
Wellness coaches: Our wellness coaches can work with you one-on-one to develop the best wellness activities and fitness plans for your specific needs.
Spa treatments: Enjoy a relaxing day at our Roaring Forks Spa, along with massages, scrubs or facials.
Roundtrip transportation: We offer roundtrip transportation to all of the best ski spots in Colorado. Take a trip out to Steamboat Springs from the regional airport or travel from the Dixon, Wyoming, private airport and enjoy its various amenities.
Mayo Clinic partnership: We've partnered with the Mayo Clinic to create an Executive Health Program for all our guests' health and wellness needs.
The experience at Three Forks Ranch and Mountain is one of a kind. You'll find everything you need and more at our secluded ski resort, along with food and lodging at a one-rate flat fee. We also pride ourselves on being a gratuity-free resort, meaning our staff and experts are paid generously to serve our guests. From our guides, chefs and staff members to our concierges and expert instructors, you can be sure to find exceptional service wherever you go.
One of the main draws of the Three Forks Ranch experience is our Roaring Forks Spa. Enjoy the luxury of a 6,000-square-foot spa as well as our various hot tubs, steam rooms and access to a studio gym. Contact one of our professional estheticians or massage therapists to enjoy our facials, scrubs, massages or wraps.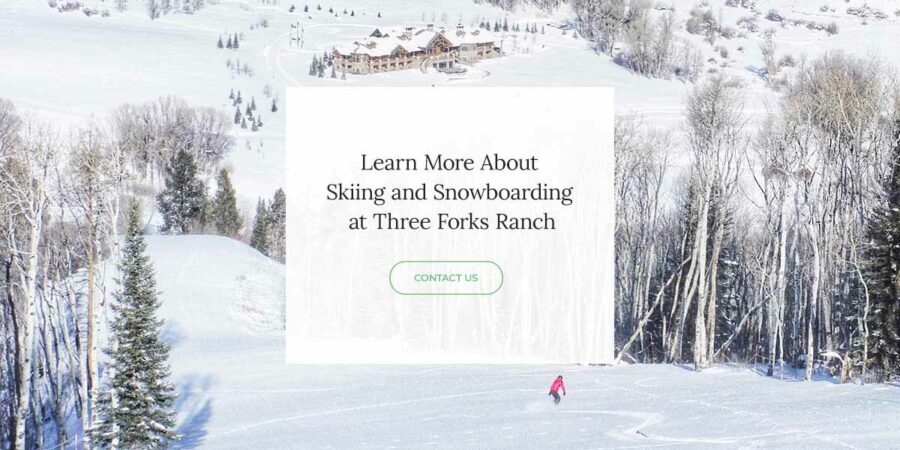 Learn More About Skiing and Snowboarding at Three Forks Ranch
For those who want to enjoy the luxury of all-inclusive snowboarding holidays or vacation spots, Three Forks Ranch offers various amenities and opportunities for skiing and snowboarding throughout your stay. We strive to make your experience as a guest unforgettable, even after you go back home.
Feel the thrills and rushes of skiing downhill on private mountains built for you or snowboarding with tips and tricks from our very own professionals. With many private ski mountains in Colorado to choose from, you can experience the benefits of snow sports without having to wait in lines or worry about other skiers in your way.
Three Forks Ranch also offers various resources for our guests, including the following:
Expert guides: Our ranch guides have both the experience and training you need to guide you through all of our unique activities.
Experienced staff: With years of experience, our staff can help you find whatever resources or activities you require. Consider taking part in detailed lessons about skiing and snowboarding or other fun winter activities, all based on your skill level.
Professional instructors: Our skiing and snowboarding instructors can advise and train you on different topics. Perhaps you want to know what boots to wear or want some tips on your current technique. Our instructors know it all.
As one of the best private ski resorts located in Colorado, Three Forks Ranch is dedicated to giving our guests a personalized experience. We look directly at your skill level, hobbies and interests and recommend activities and sports based on that. Consider booking your stay with us today or contact a Three Forks Ranch representative online with any questions.
Newsletter Sign-Up
Stunning natural beauty, expansive grounds, world-class accommodations, unparalleled service, your every desire fulfilled, just by opening your inbox.